Sunday, March 3rd, 2013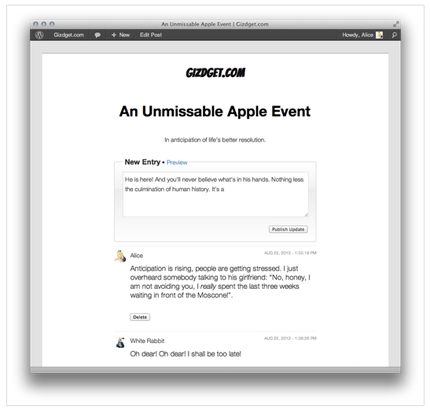 Liveblog is a great plugin for WordPress that lets you cover a fast-paced event with ease, and lets your followers find out what's happening in real time. This plugin is beneficial in a couple of ways: First, you keep every one of your followers updated on what's happening as it's happening, rather than having them read or hear about it after the fact. Second, it will hopefully draw in NEW readers to your site as the word gets around about your live updates, and someone who may not have been able to follow a particular event will now become a loyal reader of your blog.
The plugin itself seems pretty straightforward as far a use is concerned. There's a great little intro video on the main plugin page, along with screenshots so you can see what your live blog will potentially look like to viewers. Once installed, you can make any post live by selecting a box, and you can even drag-and-drop images from your desktop right onto where you're writing a post, and then preview the whole thing before you publish. Quite an ingenious little plugin for live blog situations, and one that will surely be used by WordPress enthusiasts the world over.